Past CIOFF® World Folkloriadas
Folkloriada 1996 Netherland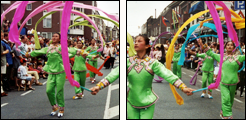 List of participants
Northern European Sector
| | |
| --- | --- |
| Denmark | Costume exhibition Kamma Gudmand-Hoyer |
| Estonia | Folk Music Group "Tuulepill" |
| Finland | "Foreningen Brage" |
| Ireland | "Brenda Bastable Irish Dancers" |
| Latvia | Deju Kopa "Dziga" |
| Lithuania | Folklornis Ansamblis "Jorë" |
| Norway | "Valdres Folkemusikklag" |
| Sweden | "Söndags Gruppen" |
Central European Sector
Austria
"Pramer Musikanten"
Belarus
"Krupitskiya Muzyky"
Belgium
Vendelgroep "Uilenspiegel"
Vendeliersgilde "Gelmel Zwaaiers"
Bulgaria
"Shiroka Laka"
Czech Republic
"Hradistan"
Germany
"Folkloretanzensemble Thea Maass"
Ostereiermahler Arbeitskreis Internationales
Folklore-Festival Marburg-Biedenkopf e.v."
"Stieger Waldmusikanten"
Georgia
"Poti Dance and Song Company Phazisi"
Hungary
"Bihari Ensemble"
"Fecske Puppeteer's Group"
Israël
"Jerusalem Folklore Ensemble"
Luxembourg
Youth group "Vallée des Sept Châteaux"
Moldavia
"Târâncuta"
Parascovia Secrueru and Elena Rotaras (weavers)
Netherlands
"Möppeler Daansers"
"De Hakkespits"
"Sallandse Folkloregroep Raalte"
"Dansgroep Wieringerwaard"
Poland
Students Dance and Song Company "Poloniny"
Children's Folk Dance Group "Zawaternik"
Romania
Ansamblul Folcloric "Chindia"
Russia
"Russian National Theatre"
Slovakia
"Zornicka"
Albania
"Vlorë"
Croatia
"Jedinstvo"

South European and African Sector
France
"La Capouleiro"
Greece
"Kalarrytes" -
"Pyrsos"
Italy
"Associazione Culturale G.F. Citta di Assemini"
Portugal
"Bombos Zabumba Sa Casa Do Povo Do Paul"
"Rancho Etnografico e Adufeiras de Idanha a Nova"
Slovenia
"Mariborski Oktet"
Spain
"Al Andalus"
"Jaca"
Switzerland
"Alpenhornbläservereinigung Deutschfreiburg"
"Fahnenschwingervereinigung des Kt. Freiburg"
Togo
"Balafon"
Uganda
"Uganda Dance Academy"
Yugoslavia
Kud "Prvi Partisan"
Folklore Ensemble (Serbia, Montenegro)
Northern American Sector
| | |
| --- | --- |
| Canada | L'Ensemble folklorique de Lachine "Les Éclusiers Inc." |
| United States | "Brigham Young University Folk Music Ensemble"of America |
Latin American Sector
| | |
| --- | --- |
| Argentina | "Compania Argentina de Danzas" |
| Brazil | Departamento Tradicionalista da Universidade de Passo Fundo" |
| Chili | Ballet Folklorico Nacional de Chile "BAFONA" |
| Cuba | "Grupo Los Pinos Nuevos" |
| Haiti | "Ballet Baconlon" |
| Mexico | "Conjunto Folclorico Magisterial" |
| Paraguay | "Paraguay Ne'e" |
| Puerto Rico | Ballet Folklorico Oficial de Puerto Rico"Areyto" |
Asian and Oceanian Sector
Australia
Laurie Nilsen and Herb Wharton
Azerbajan
"Sayyah"
Cambodia
"Ballet Royal Khmer du Cambodge"
China
"China Kunming National Folk Song and Dance Ensemble"
Chinese Taipei
"Nan Ying Folk Dance Troupe"
Japan
"Torami Jinku Hozonkai"
"Kotobuki Kasuga"
Korea
"Ae-joo Lee's Traditional Dance Group"
Malaysia
"Johore Cultural Group"
New Zealand
"Taonga Whanau"
Philippines
Bayanihan Folk Arts Association Inc."
Sri Lanka
"Sama Ballet"
Thailand
"Roi-et Isan Cultural Group"
Exhibition "Thai Life"
Turkey
"Bakirköy Halk Oyunlari Dernegi"